"Art of Alaska and the Pacific Northwest Coast"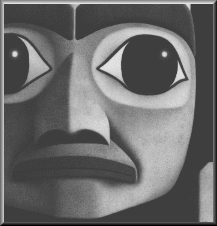 "Haida Totem"
(5 x 8 drawing time - 153 hours)
Original Pen and Ink - $2,400 U.S.
The Haida people have the most recognizable style of the Northwest Coast cultures. It is bold, monumental, and very dramatic. This piece is a stylized version of a human totem and emphasizes the large eyes and bold features typical of this culture. Pointillism is the sole technique used here and while pen and ink is not a traditional medium for this type of art, I believe that it works quite well.
(for comments and ordering info-click the buttons below)
Home

Totem Art Gallery

Wildlife Art Gallery
Biography

Art In Progress

Techniques

Northwest Stories

Kudos
Ordering

Contact Us

Links

Specials