"Art of Alaska and the Pacific Northwest Coast"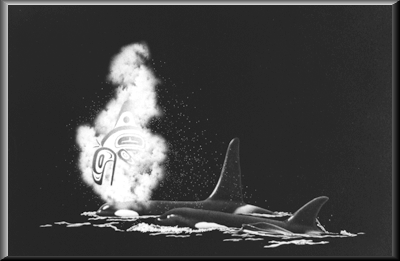 "Spirit of the Orca"
(pen & ink 8 3/4x14)
drawing time - 157 hours
Limited Edition Prints - $75 U.S
Killer whales hold a prominent place in the lives and cultures of the northwest coast first nations.Long before I became interested in northwest coast art, the orcas held a fascination for me. They are graceful, intelligent, and powerful creatures that coincidentally make an ideal subject for a black and white artist like myself. In this drawing I am attempting to tie in the respect the first peoples have for the orca with a realistic depiction of them in their natural state.

This detail gives you a closer look at the intricate stippling technique which gives the whales a soft texture, allowing them to contrast dramatically with the deep black background. It also enables you to gradually blend light to dark such as in the mist and contours of the animals. "Spirit of the Orca" is available in a signed and numbered, limited edition of 850 with 50 artist proofs.
Note - The resolution setting on your computer may be keeping you from seeing this drawing as it actually is. The background for the drawing should be a solid deep black so if that is not what you are seeing, adjust your monitor's resolution to a darker setting. It's easy to do and you will like the difference you see.
Home

Totem Art Gallery

Wildlife Art Gallery

Biography

Art In Progress

Techniques

Northwest Stories

Kudos
Ordering

Contact Us

Links

Specials