"Art of Alaska and the Pacific Northwest"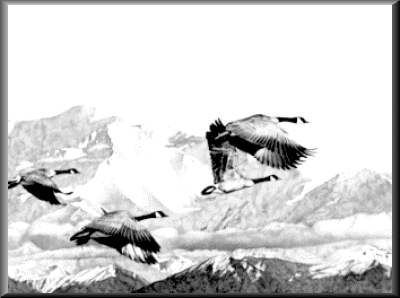 "Alaskan Airways"
Canada geese
(pen and ink13 x 17)
(drawing time - 227 hours)
Limited Edition Print - $75 U.S.
Setting a flight of canadians against a reverse backdrop of Mt. Denali sure gives you an idea of the wide open grandeur that is Alaska. Done entirely in pointillism, this scene will take you away.

"Alaskan Airways" is available as a signed and numbered limited edition of 600 prints.
(For ordering information and your comments, please click below.)
Home

Totem Art Gallery

Wildlife Art Gallery
Biography

Art In Progress

Techniques

Northwest Stories

Kudos
Ordering

Contact Us

Links

Specials