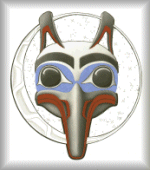 "Art of Alaska and the Pacific Northwest Coast"
When you contact Northwest Art you are dealing with me - Blaine Billman. All messages come to me and are answered by me. I believe in what I do and I'll stand behind it 100%. That's a promise. I have a novel approach to ordering : No money up front on print orders - nada - zip! Call me naive, call me trusting, but I have a hard time handing over my hard earned cash for something I haven't seen before and I can't expect you to do that either. Consider it shareware and I'm trusting you to hold up your end of the bargain.

Specials - If you purchase one print you can buy a second print of an equal or lesser value for half the listed price OR if you buy three, the third one (again of the least amount) is free. This is a great opportunity to add to your collection or get a print for a friend. They make great gifts! (This offer is not available to dealers)

How to order :
1. Click the large "ORDER" button below and an e-mail box will pop up. Type in your request along with your complete address and phone number. (If you have a question or a special request - type that in also and I'll contact you.)
2. Hit the send button. (I'll send you a reply letting you know that your request came through.)
3. Your print will be sent promptly along with the bill. Expect it to arrive within about two weeks.
4. If you like it (and I believe you will) - KEEP IT. Just remember to send me a check or money order payable in U.S. dollars and made out to "Blaine Billman" within 30 days of delivery. I've gotta eat, too!
5. If you don't like it (for whatever reason) - return it. Just carefully repack it and pay the return shipping. That's your guarantee. (So far there's only been one-not a bad record.)
BORING BUT NECESSARY DETAILS:
PRINT INFORMATION : All prints are on 100% rag neutral pH paper with permanent inks and are hand signed by the artist - me. Each comes with a signed certificate of authenticity and a biography. You'll be receiving the print only so keep in mind that they look best when properly matted and framed. I've tried to present them here similar to how I would frame them.
SHIPPING : Unfortunately, the cost of shipping has increased dramatically so I have had to make some adjustments in this procedure. Depending on cost and destination I will use either UPS, Fedex, or USPS. Shipping a print to anywhere in the lower 48 states will be $20. For any other destinations, I will contact you with a very close estimate of the cost but I will ship only upon your approval of that cost. (Damaged items will be my responsibility, not yours.)
BILLING : All orders are to be paid in U.S. dollars and must be sent within 30 days of receipt. (Overseas orders will however, need to be paid up front and will have to compensate according to the current exchange rate. You will still have a 100% satisfaction guarantee, though so rest easy.)
ORIGINALS : If you are interested in purchasing an original drawing, state your request via the "ORDER" button and I'll contact you with details. For obvious reasons, I can't release these without some protection but the details are easy to work out.
GALLERIES AND DEALERS : I love dealing with you but I have different requirements here. Call or contact me via email and I'll get back to you.
Thank you for your interest!

If ORDER button doesn't work click this email link or paste in address box: blainebillman@gmail.com
You can contact me directly at:
Northwest Art - 4774 Northview Dr./ Stevensville, Montana 59870 (503) 623-8870
Home

Totem Art Gallery

Wildlife Art Gallery
Biography

Art In Progress

Techniques

Northwest Stories

Kudos
Ordering

Contact Us

Links

Specials