"Art of Alaska and the Pacific Northwest"
"Breaking Cover" - Bobwhite Quail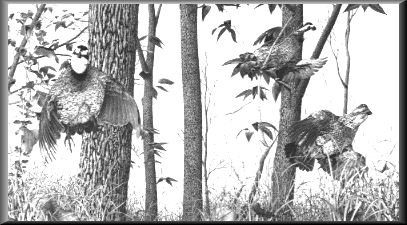 (pen and ink12 x 21Drawing Time - 587 hours)
Limited Edition Print - $95 U.S.
This scene gives you a ground level view of flushing quail. A covey will often hold until you are right on top of them and then burst up in all directions. I've talked to people who've actually had them fly right into their chest! That would wake you up in a hurry.
Some drawings have their own surprises that you just don't realize until they are finished. I really noticed that about the natural camoflage of these Bobwhites. Quail rely heavily on being able to hide in brushy cover and this piece shows how the feather shapes and patterns blend in well with the patterns of the bark and leaves. Imagine how tough it would be to find these little fellows if you were a fox or a weasel. Nature can be so clever.
"Breaking Cover" was one of the most difficult and complex drawings I have done and won several Best of Show awards. It is available as a signed and numbered limited edition of 650 prints.
(Click below for ordering information and your valuable comments via e-mail.)
Home

Totem Art Gallery

Wildlife Art Gallery
Biography

Art In Progress

Techniques

Northwest Stories

Kudos
Ordering

Contact Us

Links

Specials