"Art of Alaska and the Pacific Northwest"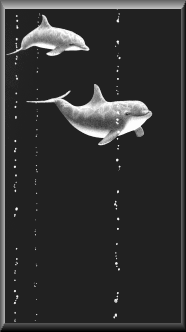 "Dancers In The Dark"
Bottlenose Dolphins
(pen and ink9 x 18)
Limited Edition Print - $65 U.S.
Dolphins are such playful and graceful creatures. Their sleek, gently curved forms are a natural for this medium because you can achieve such subtle transitions from light to dark. This particular drawing has a scratchboard look to it even though it's done entirely in ink.
"Dancers" is available as a signed and numbered limited edition of 650 prints.
(Click below for ordering information and comments via e-mail)
Home

Totem Art Gallery

Wildlife Art Gallery
Biography

Art In Progress

Techniques

Northwest Stories

Kudos
Ordering

Contact Us

Links

Specials