"Art of Alaska and the Pacific Northwest"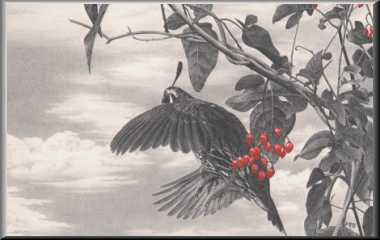 "Hasty Departure"
California (Valley) Quail
(pen & ink/graphite6x9-1/2)
Limited Edition Print - $65 U.S.
One of my favorite places to observe wildlife has a large tangle of nightshade vines that seems to be the hangout for a covey of California quail. When thinking about a scenario for the quail, I couldn't get away from that nightshade with its wonderful crimson berries.
"Hasty Departure" is available as a signed and numbered limited edition of 600 prints.
(Click below for ordering information and comments via e-mail)
Home

Totem Art Gallery

Wildlife Art Gallery

Biography

Art In Progress

Techniques

Northwest Stories

Kudos
Ordering

Contact Us

Links

Specials