"Art of Alaska and the Pacific Northwest"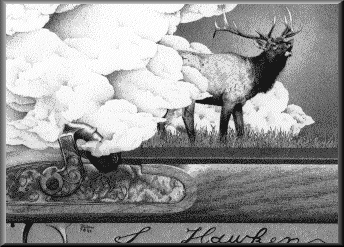 "Legacy of Sam Hawken"
(pen and ink5 x 7)
Limited Edition Print - $65 U.S.
You cannot look at the history of the west and particularly the mountain states without aknowledging the role of the 50 caliber Hawken rifle designed by, you guessed it, Sam Hawken. This drawing does just that and combines his rifle and signature with a bugling bull elk. "Legacy" was 1st runner-up in Idaho's very first muzzleloader stamp competition.
"Legacy" is available as a signed and numbered limited edition of 400 prints.
(Click below for ordering information and comments via e-mail.)
Home

Totem Art Gallery

Wildlife Art Gallery
Biography

Art In Progress

Techniques

Northwest Stories

Kudos
Ordering

Contact Us

Links

Specials