"Art of Alaska and the Pacific Northwest"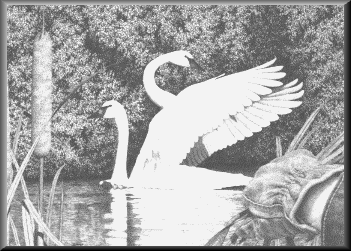 "Morning In Montana"
trumpeter swans
(pen and ink5 x 7)
Limited Edition Print - $30 U.S.
When I first entered the Federal Duck Stamp competition, I thought I would give a glimpse of what it is like to observe "up close and personal" my favorite bird - the trumpeter swan. Red Rock Lakes Wildlife Refuge in Montana has one of America's largest populations and has played a key role in bringing the swans back from near extinction. I've spent many hours there studying the trumpeters and it is one of my favorite places on earth. This drawing is a big part of my personal history so I hope you enjoy it.
"Morning In Montana" is available as a signed and numbered limited edition of 650 prints.
(Click below for ordering information and comments via e-mail.)
Home

Totem Art Gallery

Wildlife Art Gallery
Biography

Art In Progress

Techniques

Northwest Stories

Kudos
Ordering

Contact Us

Links

Specials