"Art of Alaska and the Pacific Northwest"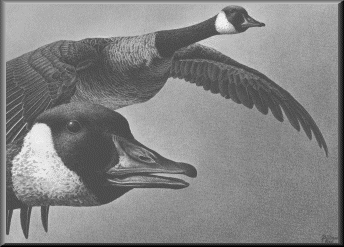 "Moving On The Leader"
Canada geese
(Pen & Ink/graphite5 x 7Drawing time-192 hours)
Limited Edition Print - $65 U.S.
When migrating in formation, the lead often changes so that those following can have an easier time of it in the first one's draft. This scene shows a closeup view of that lead change taking place and was a Federal Duck Stamp entry.
"Moving On The Leader" is available as a signed and numbered limited edition of 400 prints.
(Click below for ordering information and comments via e-mail)
Home

Totem Art Gallery

Wildlife Art Gallery
Biography

Art In Progress

Techniques

Northwest Stories

Kudos
Ordering

Contact Us

Links

Specials