"Art of Alaska and the Pacific Northwest"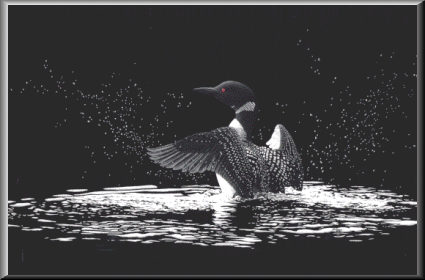 "Northern Lights" Common Loon
(pen and ink8 x 16)
Limited Edition Print - $75 U.S.
Have you ever seen an oceanliner cruising through the calm black of night; tiny lights peeking out from each porthole. That's what this piece reminds me of.
There is a lot of subtle drama here as the loon rises from the water - protecting his territory or perhaps just taking a stretch. Although this looks a lot like scratchboard, it is totally pen and ink and was the first I had done of this type of drawing. Hope you enjoy it - I did. "Northern Lights" is available as a signed and numbered limited edition of 650 prints.
(Click below to order and please, let me know what you think via e-mail.)
Note - The resolution setting on your computer may be keeping you from seeing this drawing as it actually is. The background for the drawing should be a solid deep black so if that is not what you are seeing, adjust your monitor's resolution to a darker setting. It's easy to do and you will like the difference you see.
Home

Totem Art Gallery

Wildlife Art Gallery

Biography

Art In Progress

Techniques

Northwest Stories

Kudos
Ordering

Contact Us

Links

Specials