"Art of Alaska and the Pacific Northwest"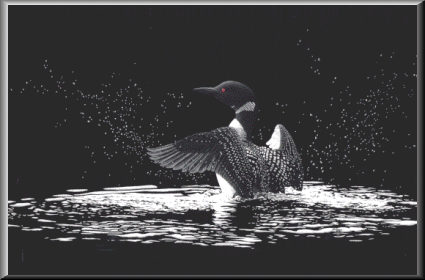 "Northern Lights" Common Loon
(pen and ink8 x 16)
Limited Edition Print - $65 U.S.
Have you ever seen an oceanliner cruising through the calm black of night; tiny lights peeking out from each porthole. That's what this piece reminds me of.
There is a lot of subtle drama here as the loon rises from the water - protecting his territory or perhaps just taking a stretch. Although this looks a lot like scratchboard, it is totally pen and ink and was the first I had done of this type of drawing. Hope you enjoy it - I did.
"Northern Lights" is available as a signed and numbered limited edition of 650 prints.
(Click below to order or let me know what you think via e-mail.)
Home

Totem Art Gallery

Wildlife Art Gallery
Biography

Art In Progress

Techniques

Northwest Stories

Kudos
Ordering

Contact Us

Links

Specials