"Art of Alaska and the Pacific Northwest"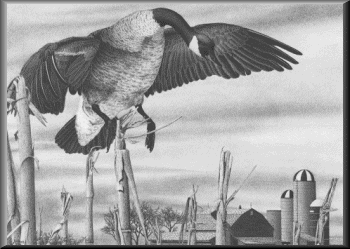 "November Dawning"
canada goose
(pen and ink/graphite7 x 10)
Limited Edition Print - $45 U.S.
The idea for this drawing first came as I was driving through Iowa and Illinois. I had to do something with grain silos that had the checkerboard patterns. The central flyway passes through these areas with enormous flocks of migrating geese and with the cornfields everywhere - well, it all just came together perfectly.
The pen and ink of the goose and farm scene is offset by the pencil of the sky for some wonderful effects. "November Dawning" is available as a signed and numbered limited edition of 400 prints.
(Click below for ordering information and comments via e-mail.)
Home

Totem Art Gallery

Wildlife Art Gallery
Biography

Art In Progress

Techniques

Northwest Stories

Kudos
Ordering

Contact Us

Links

Specials