"Art of Alaska and the Pacific Northwest Coast"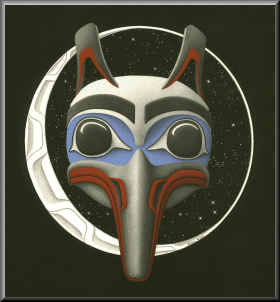 "Raven Moon"
(pen&ink/acrylic 11 1/2 x 11 1/2)
drawing time - 226 hours
Limited Edition Prints - $75 U.S
Long, long ago the earth was dark and Raven grew weary of bumping into every little thing. Among the best known stories of the Pacific Northwest is how Raven stole the sun from an old man who kept it hidden in a box and by freeing it, brought light to the world. An often overlooked part of the story is that Raven freed the moon first, bringing light to the nightime skies and comfort to the people below. That is what "Raven Moon" represents in symbolic form.
"Raven Moon" balances a classic Raven totem within a crescent moon encircling a nightime sky filled with stars. The Raven design itself was inspired by the wonderfully carved masks of the Pacific Northwest cultures.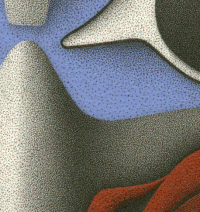 The black, blue, and red for this piece make a striking combination and traditionally, are the three primary colors used in northwest coast artwork. The red and blue are done in acrylic with black ink stippled in for shading. The detail shows the intricacy of these hand-placed dots of ink and how they achieve not only a soft texture but a three-dimensional quality as well.
"Raven Moon" is available in a signed and numbered, limited edition of 750 with 50 artist proofs. If you are interested in obtaining one, please send me an e-mail and I will reserve one for you.
Home

Totem Art Gallery

Wildlife Art Gallery
Biography

Art In Progress

Techniques

Northwest Stories

Kudos
Ordering

Contact Us

Links

Specials