"Art of Alaska and the Pacific Northwest Coast"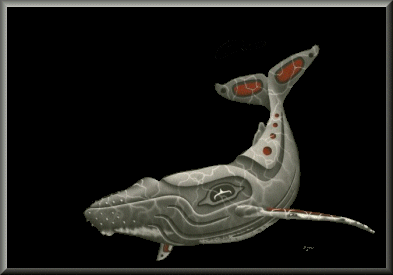 "Spirit of the Great Whale"
(pen&ink/acrylic 11x15)
drawing time - 316 hours
Limited Edition Prints - $75 U.S
There are few sights to rival that of Humpback whales feeding and frolicking off the coast of Alaska. These majestic animals, among the largest mammals on the planet, show a unique combination of immense power and gentle grace. They are known to be the most playful of the baleen whales and are often seen rising high out of the water to splash dramatically on their backs and sides or slapping their fins and tail flukes on the surface. "Bubble net" feeding is a fascinating ritual in which a pod of whales encircle a school of fish or krill from below and while rising, release curtains of bubbles thereby trapping the fish in the middle. Then the whales rush upward with mouths gaping and scoop up the fish-a very effective group effort and a truly spectacular sight to see.
The whale played a significant role in the life of the Northwest Coast people and is often found in their artwork and stories. Many clans and families took the whale as their crest but the Macah and Nuu-chah-nulth peoples were the only particularly prominent whaling cultures.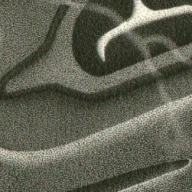 In this drawing, I have combined an anatomically realistic humpback with totem features to symbolize the relationship of the spiritual and physical aspects of this wonderful creature. The drawing itself was one of the most difficult I've attempted due to the intense stippling (dots) used to create the numerous shading areas. The detail inset will give you an idea of that task since each dot is "placed" by hand - one at a time. I believe this to be among my best works and am thrilled to have it turn out so well.
"Spirit of the Great Whale" is available in a signed and numbered, limited edition of 550 with 50 artist proofs. They turned out beautifully and the deep contrasts of the carved appearance give it quite a dramatic effect. Thanks for your interest in my work and I'll look forward to hearing your comments.
Note - The resolution setting on your computer may be keeping you from seeing this drawing as it actually is. The background for the drawing should be a solid deep black so if that is not what you are seeing, adjust your monitor's resolution to a darker setting. It's easy to do and you will like the difference you see.
Home

Totem Art Gallery

Wildlife Art Gallery

Biography

Art In Progress

Techniques

Northwest Stories

Kudos
Ordering

Contact Us

Links

Specials