"Art of Alaska and the Pacific Northwest Coast"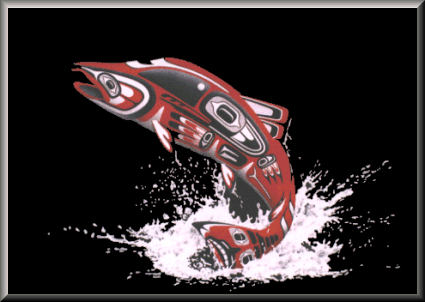 "Spirit of the Sockeye"
(pen&ink/acrylic 11x13)
drawing time - 159 hours
Limited Edition Prints - $85 U.S
Salmon are very important to the cultures of the Northwest coast tribes and figure prominently in their lives, their history, and their legends. "Spirit of the Sockeye" blends the styles of the Northwest cultures with a realistic sockeye in a very dramatic way. Natives believed the salmon to be a separate people, living beneath the ocean, and this drawing combines both the spiritual and real-life aspects of this idea. Inside the salmon you will see totems representing:

Raven-Perhaps the most important mythical creature who, according to the story of Raven and Fog Woman, is responsible for putting the salmon in the ocean and streams.
Human-Notice that the human totem on the tail is wearing a ringed hat denoting a person of rank (perhaps making him the leader of the salmon people).
Salmon/Trout-These design motifs are found within the wing and tail of the raven .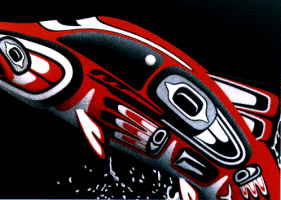 One of the most striking aspects of a spawning male sockeye is the color which also figures prominently in the native totems. That presented its own problems in the drawing because the colored inks were not working well at all even though they were supposed to be lightfast and colorfast. So, I experimented with acrylic for the color which worked great because I could then stipple on top of that with black ink for the shading.
"Spirit of the Sockeye" is available in a signed and numbered, limited edition of 850 with 50 artist proofs. It has many unique qualities and I must admit that it is one of my personal favorites. I enjoyed every aspect of it from the research to the actual drawing.
I would truly love to hear your feelings about it so talk to me through the e-mail button below. Thank you.
Home

Totem Art Gallery

Wildlife Art Gallery
Biography

Art In Progress

Techniques

Northwest Stories

Kudos
Ordering

Contact Us

Links

Specials