"Art of Alaska and the Pacific Northwest"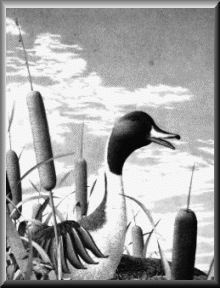 "Too Close For Comfort"
Pintail Drake
(pen and ink/graphite12-1/2 x 15-1/2Drawing time-327 hours)
Limited Edition Print - $50 U.S.
I couldn't count how many times I've been out looking for something only to have it come right up in my face. It's very startling but hey, that's life! This one has a terrific sense of depth due to the contrast of the ink with the pencil of the sky. It also shows you how when you are sometimes caught up in the drama of the moment, there are many things that you just don't see.
"Too Close" is available as a signed and numbered limited edition of 650 prints.
(Click below for ordering information and comments via e-mail.)
Home

Totem Art Gallery

Wildlife Art Gallery
Biography

Art In Progress

Techniques

Northwest Stories

Kudos
Ordering

Contact Us

Links

Specials