"Art of Alaska and the Pacific Northwest"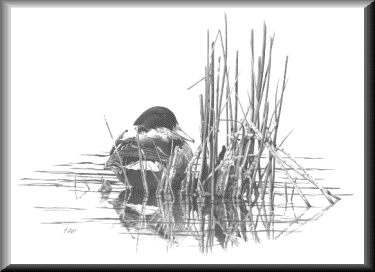 "Weary Traveler II"
mallard drake
(graphite10 x 12)
Limited Edition Print - $65 U.S.
I have a floating blind that I use to watch waterfowl back in the wetlands. It looks a bit like a muskrat house and the ducks make themselves right at home. I've spent many happy hours watching them feed, take naps, and strut around during mating rituals. Like his partner in "Weary Traveler I", you can't help but be captivated by this little drake as he catches a few winks in the bullrushes.
"Weary Traveler II" is available as a signed and numbered limited edition of 600 prints.
(Click below for ordering information and your comments via e-mail.)
Home

Totem Art Gallery

Wildlife Art Gallery
Biography

Art In Progress

Techniques

Northwest Stories

Kudos
Ordering

Contact Us

Links

Specials