"Art of Alaska and the Pacific Northwest"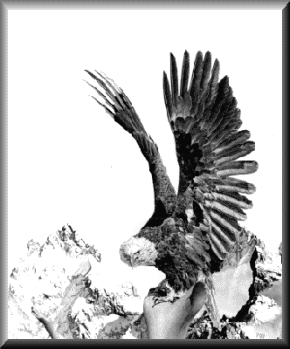 "Where Eagles Dare"
North American Bald Eagle
(pen and ink15 x 19) Drawing Time-442 hours
Limited Edition Print - $85 U.S.
This depiction of the American national bird has a remarkable amount of detail and in this face to face encounter, you can feel his gaze going right through you. The feathering in this one is very intricate with each of the larger feathers taking up to 6 hours to do. The bulk of this drawing was done with line and there is a great sense of depth and drama.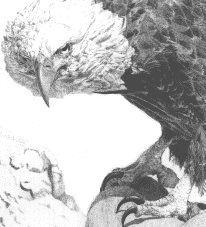 "Where Eagles Dare" has graced the covers of several magazines and wildlife posters and has won Best of Show at several wildlife art shows. It is available as a signed and numbered limited edition of 650 prints.
(Click below for ordering information and comments via e-mail.)
Home

Totem Art Gallery

Wildlife Art Gallery
Biography

Art In Progress

Techniques

Northwest Stories

Kudos
Ordering

Contact Us

Links

Specials