"Art of Alaska and the Pacific Northwest"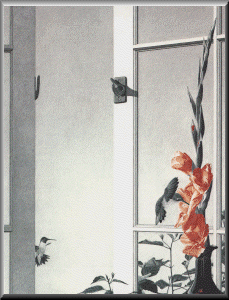 "Whispering Wings"
Ruby-throated Hummingbirds
(pen and ink/graphite11-3/4x13-3/4Drawing Time-331 hours)
Limited Edition Print - $85 U.S.
This drawing was a blast to do. We all think of hummingbirds as shimmeringly colorful creatures so this picture needed some color to maintain its spirit. The obvious thing to do would be to put some color in the birds themselves. I thought it would be more fun to put the color elsewhere and let your imagination do the rest.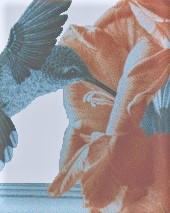 The windows presented their own peculiarities with a multitude of perspectives and shadowing and I went through about $60 worth of gladiolas to find just the right ones. I hope you like this one for it is a sentimental favorite of mine.
"Whispering Wings" is available in a signed and numbered limited edition of 650 prints.
(Click below for ordering information and comments via e-mail)
Home

Totem Art Gallery

Wildlife Art Gallery
Biography

Art In Progress

Techniques

Northwest Stories

Kudos
Ordering

Contact Us

Links

Specials