"Northwest Art Note Cards"
-Greeting Cards featuring Northwest Coast Art-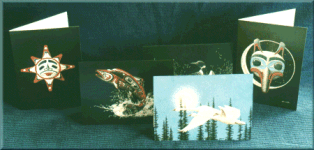 Greeting cards are always handy and finding unique ones to send is very popular. The samples below more accurately represent the 5 designs I have available and are blank inside. Each is 5X7 inches and you can mix and match as you wish. To order, simply click the "Ordering" link at the bottom of this page. Thank you.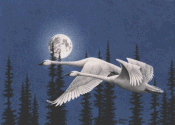 "Night Moves" - Trumpeter Swans: $1 each/$10 dozen ( $1.50 shipping)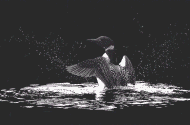 "Northern Lights" - Common Loon: $1 each/$10 dozen ( $1.50 shipping)

"Raven Moon" - Raven Totem: $1 each/$10 dozen ( $1.50 shipping)

"Sun of the First Nations" - Sun Totem: $1 each/$10 dozen ( $1.50 shipping)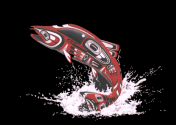 "Spirit of the Sockeye" - Salmon Totem: $1 each/$10 dozen ( $1.50 shipping)
Home

Totem Art Gallery

Wildlife Art Gallery

Corporate Art

Note Cards
Biography

Art In Progress

Techniques

Northwest Stories

Kudos
Ordering

Contact Us

Links

Specials